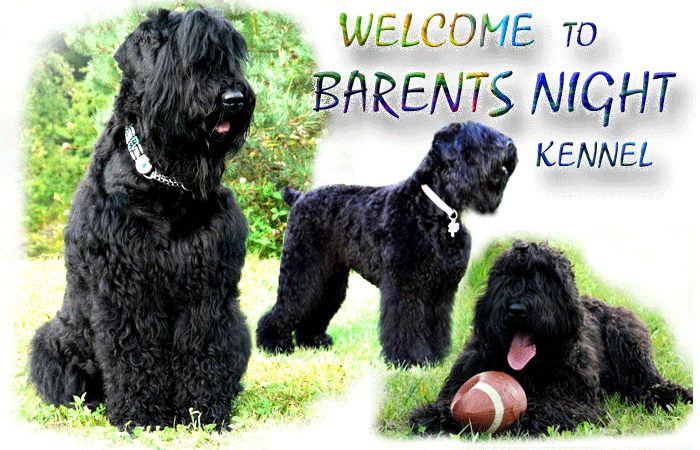 Welcome to Black Russian Terrier (BRT) Kennel
   The purpose of this site is to offer network of support, current news and any related information to all interested in BRT's.
To breed healthy BRTs according to the standard, preserving and improving on conformation and working quality of our breed.
As many of you are aware, the AKC (American Kennel Club) recognized the Black Russian Terrier in July of 2004.
It did not just happen: Many people worked very hard for a long period of time to make it happen. We are prepared to do
the needed work and will be glad to get any help you would like to offer. At the present moment the BRT breed has been
added to the CKC Miscellaneous list of Breeds in 2002.
The Black Russian Terrier (BRT) are:
- Hypoallergenic
- Non-shedding and Odorless
- Adaptable to your life style
- Highly intelligent
- Easily trainable
- Multipurpose working dog
- Great with children
- Height ranges from 26-31 inches. Weight ranges from 90-160.
You won't find a nicer family pet, a beautiful, loyal, brave and intelligent dog.
Puppies are available for show, sport/work, and loving companions.
On behalf of Vetary.com,
I want to congratulate you on the Best Black Russian Terrier Breeder Award.
Vetary has analyzed top Black Russian Terrier breeders and cross referenced positive
social mention data with top analytics platforms.
Your site was a clear winner with U.S. pet owners over the last 12 months.
For context, Vetary awards breeders with best-in-class online buzz, content,
visuals, and most importantly,
a strong cause and devotion toward their breed of dogs.

Again, congratulations from the Vetary team!
Best,
Gillian Foggle
Vetary.com